Xiaomi Redmi Note 5 discontinued in India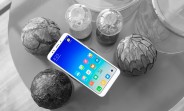 Xiaomi Redmi 5 Plus arrived in India as Xiaomi Redmi Note 5, but
it never managed to reach the same popularity as the Redmi Note 4.
That was mostly because the Chinese company also introduced the
Redmi Note 5 Pro with dual cameras and better specs for a rather
modest premium. That's why it's no surprise that Xiaomi has finally
discontinued the Redmi Note 5 in India and is pulling the device
out of the market. The phone is delisted from Mi.com and all major
online and offline retailers. The price of the Redmi Note 5 was
INR9,999 or INR11,999, depending on the memory variants….
Source: FS – Cell Phones
Xiaomi Redmi Note 5 discontinued in India