Weekly poll results: Moto Z3 gets a lukewarm reception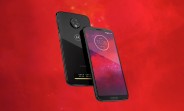 The Moto Z3 got a lukewarm reception. Its design is getting a bit old now (barely changed since 2016's Moto Z) and it doesn't help that it's a mishmash of older hardware (a Z2 Force in a Z3 Play body).
The price of $480 is its saving grace, but the relatively closed off US market does have alternatives. The Asus Zenfone 5z is officially sold through US retailers, there's also the OnePlus 6, both of which have a similar price but a with a 2018 chipset.
Okay, it's not just the price. The MotoMods enticed people – some clamoring for a QWERTY keyboard, others excited by the future 5G…
Source: FS – Cell Phones
Weekly poll results: Moto Z3 gets a lukewarm reception