Sony Xperia XZ3 gets portrayed inside various cases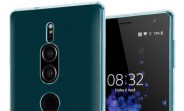 On August 30 Sony is holding its annual press event at IFA in Berlin, and it's widely anticipated that the Xperia XZ3 will make its debut on that occasion. Like its name implies, this will be the successor to the Xperia XZ2 which was unveiled at MWC back in February.
Today case maker Olixar has seemingly revealed the design of the upcoming smartphone, showing us the following renders of the XZ3 inside a range of its protective cases.
Sony Xperia XZ3 inside different cases
Thus, the Xperia XZ3 seems to be a cross between the XZ2 and the XZ2 Premium in terms of design. It…
Source: FS – Cell Phones
Sony Xperia XZ3 gets portrayed inside various cases