Sony Xperia XA2 Plus announced with 6" screen, Snapdragon 630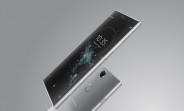 Sony Xperia XA2 and Sony Xperia XA2 Ultra have been around since January, and now the Japanese manufacturer unveiled a middle-ground solution called Xperia XA2 Plus. It has the same 23 MP MotionEye camera and Snapdragon 630 chipset as its XA2 siblings but is a bit more ergonomic due to narrower bezels and taller display.
The XA2 Plus is the first device in the XA2 line with an 18:9 ratio. The LCD stretches to 6″ and packs Full HD+ resolution. It is also protected by Gorilla Glass 5.
The Snapdragon 630 chipset houses an octa-core CPU at 2.2 GHz and an Adreno 508 GPU. The XA2 Plus is…
Source: FS – Cell Phones
Sony Xperia XA2 Plus announced with 6" screen, Snapdragon 630