Samsung unveils Notebook 5 and 3 series: trio of light, practical laptops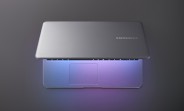 Samsung unveiled three new Windows laptops with solid performance and a practical build. The Samsung Notebook 5 comes with a 15.6″ 1080p screen and a metal body. The other two are Notebook 3 models – one with a 14″ screen and one with 15.6″.
The specs are mostly identical from here on out. The laptops come with a choice between an 8th or 7th generation Intel processors, the higher-end models also come with discrete Nvidia graphics. Full specs are available at the bottom.
Samsung Notebook 5
These are practical laptops. They have full keyboards with numpads,…
Source: FS – Cell Phones
Samsung unveils Notebook 5 and 3 series: trio of light, practical laptops