Samsung Galaxy Note9 passes through the FCC, one month earlier than the Note8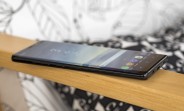 Today the upcoming Samsung Galaxy Note9 has been certified by the US FCC. This is a normal step on the way to its launch, but it's interesting to consider that last year, the Galaxy Note8 passed through the FCC at the end of July.
Does that mean that all those rumors talking about the Note9 hitting the streets earlier in the year than its predecessor were true? It definitely seems so at the moment.
The exact model that was certified is the SM-N960F, the international version. Expect the US-specific iteration to be SM-N960U, going by Samsung's most recent naming convention. As this is…
Source: FS – Cell Phones
Samsung Galaxy Note9 passes through the FCC, one month earlier than the Note8