Pre-registrations for RED Hydrogen One go live on Verizon's website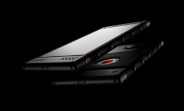 Verizon has started accepting pre-registrations for RED's Hydrogen One smartphone. You can head to the carrier's official website, and sign up (by providing you email address) to receive updates about the phone's availability.
Last month, RED confirmed Verizon and AT&T will be the official US carrier partners for the Hydrogen One. A quick look at AT&T's website reveals the carrier is yet to kick off pre-registrations for the device.
In case you aren't aware, the selling point of the Hydrogen One is its 5.7-inch "holographic" display. The device's camera allows you to record your own…
Source: FS – Cell Phones
Pre-registrations for RED Hydrogen One go live on Verizon's website