Poster confirms the Huawei Nova 3e is the P20 Lite's Chinese name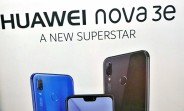 Just hours ago we reported that Huawei will unveil a new phone – the Nova 3e – in China on March 20 and that that new phone will likely be a renamed Huawei P20 Lite.
Today we got more proof of that thanks to a promotional poster for the Nova 3e that you can see below. The design perfectly matches the leaked P20 Lite renders from earlier.
If the rumor is confirmed then we can expect the Huawei Nova 3e to share the rumored specs of the Huawei P20 Lite – a 5.84-inch screen of 2280x1080px resolution, 16MP+2MP dual camera, 4GB of RAM and a Kirin 659 chipset.
We also managed to…
Source: FS – Cell Phones
Poster confirms the Huawei Nova 3e is the P20 Lite's Chinese name