Nokia 3.1 Plus unveiled in India with a 6" screen, dual camera and larger battery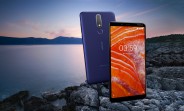 The new Nokia 3.1 Plus brings a roomy 6.0″ screen to the entry-level Android One market. The Plus model offers dual camera photography, a fingerprint reader and, of course, a larger battery over its sibling, the Nokia 3.1.
The screen has an 18:9 aspect ratio and keeps the resolution at 720 x 1,440px. So, it's not the sharpest, but the screen is bigger than what the 6.1 Plus and 5.1 Plus have to offer. And, unlike those two, it doesn't have a notch.
The back houses a dual camera – the 13MP f/2.0 main module is joined by a 5MP depth sensor. It's used for bokeh effects, naturally….
Source: FS – Cell Phones
Nokia 3.1 Plus unveiled in India with a 6" screen, dual camera and larger battery