Nimbus Data unveils the world's largest SSD: 100TB of flash storage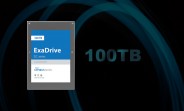 The world's largest SSD comes in a surprisingly casual package – Nimbus Data's ExaDrive DC100, a 100TB solid state drive, is packed up in a familiar 3.5″ SATA drive form factor. The focus of this drive is efficiency, not speed.
It is power efficient (0.1W/TB) and space efficient too. Nimbus says that data centers can reduce their spending for electricity, cooling and rack space by 85%, compared to other large SSDs (like Samsung's 30.72TB SSD). Nimbus estimates that the total cost (drive and all) over a 5-year period will be 42% less per terabyte compared to such drives.
The drive…
Source: FS – Cell Phones
Nimbus Data unveils the world's largest SSD: 100TB of flash storage