HMD sends out press invites for a May 29 event in Russia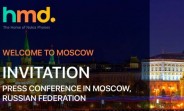 HMD is holding a product launch event later this month. The company has started sending out press invites for the event which is scheduled for May 29 in Moscow (Russia).
While the invite doesn't reveal anything about the product(s) the company will announce, given that all top HMD executives will be in presence, it's reasonable to expect one or more new smartphones will be unveiled at the event.
Adding weight to the theory is the fact that three new Nokia-branded phones – carrying model numbers TA-1075, TA-1105, and TA-1116 – recently received regulatory approval in Russia.
An…
Source: FS – Cell Phones
HMD sends out press invites for a May 29 event in Russia