Hands On with Anker's tiny new USB-C fast chargers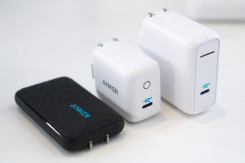 Anker continues to crank out a steady stream of universal
chargers, batteries, and similar accessories that are at the
leading edge of functionality and small form factors. Their latest
PowerPort chargers offer high-power USB-C charging in tiny
packages, now with flip plugs for even more portability. They're
compatible with all Android fast charging techs, as well as iPhone,
via Anker's Apple-certified USB-C-to-Lightning cable. We checked
them out in person.





Source: FS – Phones
Hands On with Anker's tiny new USB-C fast chargers