Fortnite for Android (beta) game review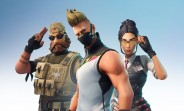 Fortnite for Android is the final piece of the puzzle that started out in September of last year with the release of the Fortnite Battle Royale mode on consoles, PC and Mac. Since then, the game got a release on iOS earlier this year in April and couple of months ago on Nintendo Switch.
The Android version of the game is understandably very late when compared to other platforms. Or perhaps, not so late if the objective here was to rejuvenate interest in the game and start the hype cycle all over again.
Unfortunately, the launch of the Android version hasn't been the smoothest. The…
Source: FS – Cell Phones
Fortnite for Android (beta) game review