Factory images for Razer Phone are now available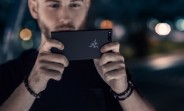 If you have a Razer Phone, and have been waiting for the company to make available factory images for the handset, you'll be glad to know that has been done. Images for the month of November, December, and January are now available for download (Source links at the bottom).
There's a dedicated page on Razer's official website listing detailed instructions for flashing images, so you can refer to that in case you need any help or clarification.
Needless to say, flashing a factory image requires your phone's bootloader to be unlocked, and as is usually the case (Razer makes it clear…
Source: FS – Cell Phones
Factory images for Razer Phone are now available